C-Quest is a customer relationship management (CRM) tool. It matches the functionality of the world's leading CRM software and has additional features customized for the logistics and SCM industries.
C-Quest helps you win new customers and better satisfy existing ones. It will automate and simplify your sales processes and reveal where you are winning and where you need to improve.
Follow each lead from initial contact through to a completed sale so you have a complete picture of your interactions with your customers. Use C-Quest to understand your new business pipeline and your real and projected financial performance.
C-Quest also contains an alert system to tell you when the profit or volume of a customer drops, when a commitment to a customer is not delivered or if a salesperson is not performing.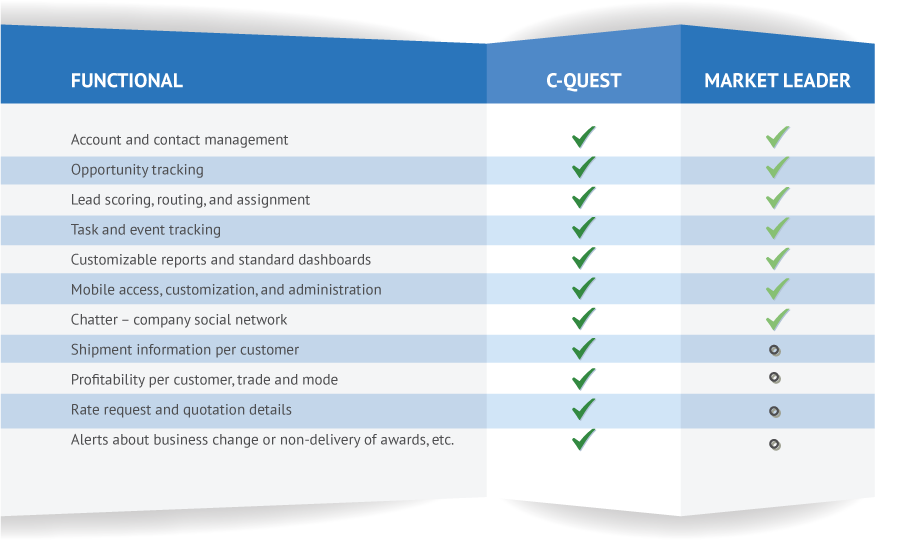 The benefits of C-Quest include:
Increased sales team productivity and efficiency
Stronger and more profitable customer relationships
Reduced costs
Increase customer satisfaction
Easy access to lead intelligence
Seeing a complete view of your customer interactions
Improved sales reporting
Budget vs Reality (profit)
Sales commission planning and calculation
Sales team or individual sales performance
Click on the links below to learn about the full suite of products for Logistics Service providers.